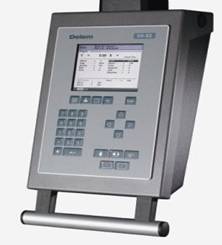 The integrated DA-52 CNC system can not only be applied to the torsion axis synchronization bending machine control, but also be used to electro-hydraulic synchronization bending machine control. Based on 4-axis control panel mounting structure, it can be mounted directly to a cabinet or in the suspended cabinet. With DELEM friendly user interface and TFT true color LCD display, DA-52 system possesses all the basic functions of bending machine control. Its unique shortcut approach provides a fast and simple programming. Y axis angle programming, crowning compensation and pressure control are all standard fittings. Based on the latest technology, DA-52 system provides a stable and reliable solution. Equipped with a USB interface, it greatly facilitates fast backup of product and mold.
Features:
1. One page fast programming
2. Guide shortcut
3. 6.4 " LCD true color TFT display
4. Max. 4-axis control (Y1, Y2 and two additional axes)
5. Workbench compensation control
6. Mold / material / product library
7. USB interface
8. Panel mounting structure and optional suspension box
9. Advanced Y-axis control algorithm can control closed loop or open loop valve.